2017 Events Calendar:
General Meeting - 4th May
General Meeting - 3rd August: Breeding Ecology of Banded Stilts (Speaker: Reece Pedler from Deakin University) movements and breeding ecology of Banded Stilts in arid Australia. Reece not only locates and follows Banded Stilts over enormous distances across Australia, but is also in the process of establish-ing Wild Deserts, a new predator-free sanctuary in Sturt National Park to promote and restore desert ecosystems. So don't miss this opportunity to be inspired by an ecologist who thinks and acts on a grand scale to help our wildlife!
Quiz Night - 8th Sept
AGM - 5th Oct: Grasswrens, Australian Outback Identities (Speaker: Andrew Black). All Welcome. Light refreshments from 5.30 pm, talk starts at 6 pm. Andrew's book is available for purchase on night ($40, cash only).
​Southern Emu-wren Seminar/Workshop - October 18th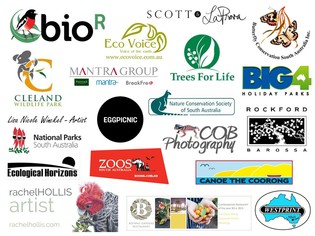 2017 BSSA QUIZ NIGHT
Friday 8th September 2017 at 7pm. Eclipse Room, Level 4 Union House, Adelaide Uni
​
6 quiz rounds, silent auction, 4 table rounds, prizes and games!
Thank you to everyone who attended the annual BSSA quiz night
. The night was a huge success with 15 teams competing for top spot, our biggest quiz night so far!
Thanks to our generous sponsors and huge turnout, the BSSA successfully raised $1,900 for the 2017 Field Research Grant to assist conservation research in South Australia. Overall a great night was had by all and a special thank you goes out to all of the committee members for all their time and effort that went into the organisation of this event. Congratulations to all the Winning teams!
Join us at our 2017 quiz night, $10 per person.
Have fun and support conservation research at the same time!
email us for enquiries about next year
---
Other Past Events:
TEDxAdelaide 2015
Join us at TEDxAdelaide 2015 and hear our BSSA patron, David Paton's presentation:

David Cleland Paton has devoted his life to science and educated many hundreds of South Australians who work in conservation. His passions are many, though it is the ecology and behaviour of birds that drives this Associate Professor of environmental science, a Director of BioR and chair of Birds SA, one of the state's largest environmental NGOs.

Cleland Wildlife Park and other protected reserves used to be all about protecting habitat for wildlife (and nature for our own needs). This is no longer enough and more than half the woodland birds of the Mount Lofty Ranges are in danger of being lost to us forever. We are to blame and it is clear how we got here. So how can people help these birds to survive? David's idea might just be simple enough to work.

Saturday, 21 November 2015 from 9:00 AM to 5:00 PM (ACDT) at Adelaide Town Hall


2016 AGM - October 6th 2016

We have a very exciting talk for our Annual General Meeting this year - Professor Sonia Kleindorfer from Flinders University will be talking about: "Female Song in Songbirds: changing our understanding of gender and fitness". Sonia's talks are reputably fascinating and full of energy, so be sure not to miss out!

We also announced any committee member resignations and new openings, and summing up our year in the BSSA. So now's the time to begin thinking about how YOU could contribute more to our State's Biology and Conservation research!


---
2016 BSSA Quiz night
Thank you to everyone who attended the annual BSSA quiz night. The night was a huge success with 15 teams competing for top spot, our biggest quiz night so far!
Thanks to our generous sponsors and huge turnout, the BSSA successfully raised $1,900 for the 2017 Field Research Grant to assist conservation research in South Australia. Overall a great night was had by all and a special thank you goes out to all of the committee members for all their time and effort that went into the organisation of this event. Congratulations to all the Winning teams!



---
2015 Welcome BBQ and presentation

Welcome new members!

It's not too late to sign up and become a

BSSA member

.

Dr Katherine Moseby gave a fascinating presentation about the Western Quoll Reintroduction Program - as see on TV and in the media - a very exciting project.

ABC NEWS STORY:

http://www.abc.net.au/news/2015-02-07/more-rare-quolls-head-sa-after-successful-start-reintroduction/6075576

Check out the Landline story here: http://www.abc.net.au/landline/content/2014/s3992629.htm

Dr Katherine Moseby gave a fascinating presentation about the Western Quoll Reintroduction Program - as see on TV and in the media - a very exciting project.

Photos of the BBQ coming soon...




---